Dr. Yael Halaas, MD, FACS
Board-Certified Facial Surgeon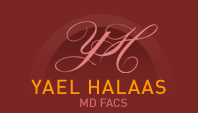 60 E 56th Street, 3rd Floor
New York, New York 10022
(332) 239-6439
Serving patients seeking rhinoplasty in New York City, Manhattan and the surrounding area
Yael Halaas, MD, FACS, is an extremely talented, board-certified facial plastic surgeon who maintains the highest standards of surgical and medical care. She has earned a reputation as a leading New York City female plastic surgeon who strives to provide each patient with the quality of medical care that she demands for herself and her loved ones. Her firm belief that every patient deserves a caring physician whom they can trust has helped her deliver outstanding treatment outcomes for more than 11 years. Internationally recognized as an expert in hair restoration as well as cosmetic treatments for the aging face, Dr. Halaas is frequently pursued by major media outlets for her insight into the latest techniques and technologies in facial plastic surgery. She has appeared on numerous television networks, including Fox News, ABC and CBS. In addition, Dr. Halaas is often featured in prominent print publications such as New York Times Magazine, Us and Women's Health, just to name a few.

Dr. Halaas has appeared on numerous television networks,
and she has been featured in popular magazines.
Dr. Halaas strives to provide each patient with individualized and effective treatment options that allow them to fight the aging process gracefully. She offers a wide range of facial plastic surgery procedures, including facelift, rhinoplasty, eyelid surgery, brow lift, ear surgery, neck lift, chin augmentation, and Local Lift, also known as "mini facelift." New York City facial plastic surgery patients under the care of Dr. Halaas may also choose to undergo non-surgical facial rejuvenation treatments such as Botox injections, dermal fillers, fat transfer, laser skin resurfacing and chemical peels, which provide temporary yet satisfying appearance-enhancing results. In addition, Dr. Halaas specializes in incisionless follicular unit extraction (FUE) surgery, a leading-edge hair restoration treatment that eliminates donor site scarring.
Dr. Halaas performs all facial rejuvenation and hair restoration procedures at her state-of-the-art, nationally accredited practice and surgical suite in Manhattan. She and her outstanding medical team focus on providing safe and compassionate medical care while producing stunning aesthetic results that consistently exceed her patients' expectations. In fact, patients from around the world travel to New York City to visit Dr. Halaas.
To schedule a one-on-one consultation with Dr. Halaas and learn more about your facial plastic surgery options, please contact her office at (332) 239-6439.
More About Yael Halaas, MD, FACS
Yael Halaas, MD, FACS, received her undergraduate degree from Columbia College in New York. She obtained her medical degree at Cornell University Medical College, where she graduated in the top 10 percent of her class and was inducted into the prestigious Alpha Omega Alpha medical honor society. In recognition of her academic excellence, Dr. Halaas was honored with an award from the American Medical Women's Association. She completed her general surgery internship and otolaryngology residency at Albert Einstein College of Medicine in New York, where she currently serves as an Assistant Clinical Professor. Dr. Halaas has been recognized by the American Medical Women's Association for the quality of her surgical results. She is the New York City Director of The R.O.S.E. Fund, a non-profit organization that recognizes women who have broken the cycle of domestic violence. Dr. Halaas is board certified by the American Board of Otolaryngology and the American Board of Facial Plastic and Reconstructive Surgery. She is a Fellow of the American College of Surgeons and a member of many professional organizations, including the American Medical Association, the American Academy of Otolaryngology – Head and Neck Surgery, the American Academy of Facial Plastic and Reconstructive Surgery, the American Society for Laser Medicine and Surgery, the American College of Phlebology and the New York County Medical Society.
Dr. Halaas also treats New York City facelift and eyelid surgery patients. Please visit the respective pages to learn more.
You Can Email Dr. Halaas Here: